Thanks for stopping by and joining me for another "
Make it with ..... Mondays
" challenge.
Today we closed the door on
challenge paprika
, and you all brought some great dishes to the table. Some of you hadn't used this ingredient before, so as always it was great to see you step out of your comfort zone and give it a try. An interesting observation I made with this challenge, is that even though, as mentioned, many of you "stepped out of your comfort zone", almost all of you ended up with dishes that could often be considered "comfort food". For my own part, I finally got to share with you my
Chicken & Chorizo Paella
, which had been languishing in draft for about 8 months, and I discovered a new favourite -
Bittman's Simplest & Best Shrimp Dish
. So do go and
check out all the entries
- there are many great dishes there - all very colourful, flavourful and many deeply comforting.
A reminder also, that
challenge Nutella is still open
for another week (closing midday Monday 14 February - NZ time). So keep those Nutella recipes coming - remember that you can link up as many posts as you like (as long as Nutella is one of the ingredients), and linking up old posts is fine too. There have been some great posts submitted already, and I know that many of you have been making wonderful treats for World Nutella Day and forthcoming Valentines Day, so do stop by and link them up. I shared with you last week my
Grilled Pineapple with Nutella
- proof, in my opinion, that a decadent dessert can still be relatively healthy. I'll also be sharing with you this week my Chocolate Cherry Nutella Ice Cream - this is nothing less than a taste sensation - you won't want to miss this one.
Now it's time to turn our attention to this week's special ingredient .....
Almonds
Almonds are the edible seeds of the almond tree, native to Southern Asia and the Middle East. Almond trees generally begin to bear fruit after about 5 years, with the fruit coming to maturity in autumn (about 7-8 months after flowering).

Although we generally think of almonds as nuts, they are in fact not a nut, but what is known as a drupe. The seed that we eat grows inside a hard shell, which itself grows inside an outer hull. In the case of the almond this outer hull is a thick, leathery coating, which would be fleshy in other members of its species such as plums and cherries.

Approximately 1.7 million tonnes of almonds are produced worldwide each year, with around 80% of that coming from California. Other major producers are Spain, Syria, Italy, Iran, and Morocco, with smaller quantities also coming from Algeria, Tunisia, Greece, Turkey, Pakistan, Lebanon and China.

There are two varieties of plants - one which produces sweet almonds, and one which produces bitter almonds. Almonds have a multitude of culinary uses and nutritional benefits. Almonds are low in carbohydrates and high in dietary fiber and monounsaturated fats, and regular consumption of almonds has been shown to lower the risk of cardiovascular disease and developing diabetes. The use of almond flour or meal is a great substitute in cakes and breads for those on a carbohydrate-restricted diet, and because almond flour is also gluten-free it is a popular substitute for those with wheat allergies and intolerances. Almonds are also a rich source of vitamin E; consumption is claimed to improve complexion, as well as increase HDL-cholesterol (good cholesterol) and reduce LDL-cholesterol; and Ayurvedic health practitioners believe that almonds provide nutrients for the brain and nervous system, thereby raising intellect and promoting longevity.
So now it's time to get cooking - put your thinking cap on, get creative, and see what you can come up with. You may use almonds in any form - whole nuts, smoked, blanched, roasted, slivered or flaked; almond flour/meal; almond butter; marzipan; almond milk; almond oil, or even an almond liqueur. Can't wait to see what you come up with.
There are really only two rules for participating in this event:
Your post must feature this week's ingredient. If, however, over time you have found a good substitute when you come across this ingredient in recipes (maybe because you don't like it, or it's not readily available in your area, or someone in your family has an allergy to it, or you use a vegan or gluten-free substitute), then, please tell us about it, show us what you use instead and explain to us why, and then of course link up - this is after all a learning experience and it's good to know about alternatives.
Your blog post must link back to this post and mention "Make it with ..... Mondays"
That's it - create your post (or feel free to link up an old post if you have one that uses this week's ingredient); multiple posts are welcome; then scroll down to the bottom of this page where you will see a small box that says "You are next, click here to enter". Click on that link, and follow the simple instructions - please link directly to your post, not just your blog home page.
Want to join in but don't have a blog? No problem - just email me your thoughts, ideas and recipes, and I'll include them in a round-up the following week. To email me just go to the "Contact Me" button on my sidebar.
If you would like to use a badge in your post, simply copy the code in the box beneath the badge below and paste it into your post. Feel free to also use it in your sidebar if you wish.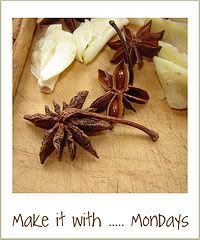 Please link your posts for "Make it with ..... Mondays" challenge almonds using the linky at the bottom of this page. The linky will be open until 11.59am Monday 21 February (NZT).
Please go to
this page
to link your posts for "Make it with ..... Mondays"
challenge Nutella
. The linky will be open until 11.59am Monday 14 February (NZT).
Last of all, before you get linking, here is a preview of what's coming up over the next 4 weeks:
Week commencing Monday 14 February - we're making it with polenta
Week commencing Monday 21 February - we're making it with coffee
Week commencing Monday 28 February - we're making it with tamarind
Week commencing Monday 7 March - we're making it with pomegranate molasses