Thanks for stopping by and joining me for another "
Make it with ..... Mondays
" challenge.
Today we closed the door on
challenge quinoa
, and what an exciting challenge it was. So many of you really dug deep for this - going way out of your comfort zone. Many of you said you had never used this ingredient before, or had tried it once before and not liked it. But you all overlooked your reticence and gave it another try. I feel really humbled that you made the effort and that you shared those efforts here. For me, it was certainly an ingredient I'd used once or twice before, but it had never really found its way into regular use in my culinary repertoire. After the last week that has certainly changed - after trying out a couple of dishes, I was really inspired not just by the deliciousness of this ingredient, but also it's versatility. I know that I will be using it much more often now, experiementing with lots of different ways to use it, and with all of it's fantastic health benefits, I'm going to be a whole lot better off for it.
A reminder also, that
challenge paprika is still open
for another week (closing midday Monday 7 February - NZ time). So keep those paprika recipes coming - remember that you can link up as many posts as you like (as long as paprika is one of the ingredients), and linking up old posts is fine too. There have been some great posts submitted already, and over this week I will be sharing with you my Chicken & Chorizo Paella, which is a real favourite around here. I'm also going to share with you Bittman's "Simplest & Best Shrimp Dish", because this Thursday also happens to be time for
Tackling Bittman
again - so drag out your favourite Bittman books and recipes, get cooking and come back here on Thursday to link up - the linky will be open for one week.
Now it's time to turn our attention to this week's special ingredient .....
Nutella
Nutella is a "chocolate" hazelnut spread, developed in its earliest form in the mid-1940s by patissier Pietro Ferrero. He was the founder of the Ferrero company, which registered the Nutella brand in 1963. The deliciously sweet hazelnut spread is now sold in over 75 countries around the world.
Nutella is a modified form of gianduja, which is normally a mixture of 50% almond or hazelnut paste and 50% chocolate. Because Nutella does not meet minimum cocoa solids concentration, in many countries it cannot be labelled as "chocolate". It's main ingredients are sugar, vegetable oils, hazelnut, cocoa solids and skimmed milk. With more than 50% of its calories coming from fat, and more than 40% from sugar, I think it would probably be fair to say that it's nutritional benefits are minimal. On the other hand the psychological benefits are enormous. Don't believe me - go scoop out a spoonful right now, and devour directly from the spoon - now try telling me you don't feel better.
So now it's time to get cooking - put your thinking cap on, get creative, and see what you can come up with. I know many of you have been eagerly awaiting this ingredient and I'm sure there are many "unexpected" ways in which you could use this ingredient. If, however, using it in unexpected ways means spreading it on someone else's body parts and then licking it off - perhaps you could just keep that to yourself - we don't need you sharing quite that much information round here. Titilating though that may be, we just don't want weird, creepy people landing up here from some crazy Google search. Can't wait to see what you come up with.
There are really only two rules for participating in this event:
Your post must feature this week's ingredient. If, however, over time you have found a good substitute when you come across this ingredient in recipes (maybe because you don't like it, or it's not readily available in your area, or someone in your family has an allergy to it, or you use a vegan or gluten-free substitute), then, please tell us about it, show us what you use instead and explain to us why, and then of course link up - this is after all a learning experience and it's good to know about alternatives.
Your blog post must link back to this post and mention "Make it with ..... Mondays"
That's it - create your post (or feel free to link up an old post if you have one that uses this week's ingredient); multiple posts are welcome; then scroll down to the bottom of this page where you will see a small box that says "You are next, click here to enter". Click on that link, and follow the simple instructions - please link directly to your post, not just your blog home page.
Want to join in but don't have a blog? No problem - just email me your thoughts, ideas and recipes, and I'll include them in a round-up the following week. To email me just go to the "Contact Me" button on my sidebar.
If you would like to use a badge in your post, simply copy the code in the box beneath the badge below and paste it into your post. Feel free to also use it in your sidebar if you wish.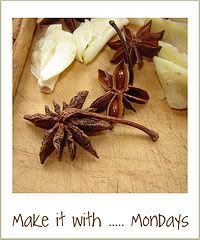 Please link your posts for "Make it with ..... Mondays" challenge Nutella using the linky at the bottom of this page. The linky will be open until 11.59am Monday 14 February (NZT).
Please go to
this page
to link your posts for "Make it with ..... Mondays"
challenge paprika
. The linky will be open until 11.59am Monday 31 January (NZT).
Last of all, before you get linking, here is a preview of what's coming up over the next 4 weeks:
Week commencing Monday 7 February - we're making it with almonds
Week commencing Monday 14 February - we're making it with polenta
Week commencing Monday 21 February - we're making it with coffee
Week commencing Monday 28 February - we're making it with tamarind