"
Make it with ..... Mondays
" is definitely gaining some momentum. I'm overwhelmed by the emails and encouragement that so many of you have shown for this event, and most of all I am beyond excited that already some of you have been inspired to try cooking with an ingredient you've never used before, as was the case with challenge saffron. Challenge saffron is now over, and you can see
all the saffron posts here
; also a reminder that the
linky for joining your vanilla posts
is still open for another week (closing midday Monday 24 January - NZ time). So keep those vanilla recipes coming - remember that you can link up as many posts as you like (as long as vanilla is one of the ingredients), and linking up old posts is fine too.
Now it's time to turn our attention to this week's special ingredient .....
Quinoa
Quinoa is an ancient grain-like crop that originally came from the Andes Mountains in South America - I say "grain-like", because unlike a true grain it is not a member of the grass family. In fact quinoa comes from a species of plant known as chenopodium (or goosefoot), which is more closely related to species such as beets and spinach.
Because of its very high protein content (12-18%) compared to other grains, quinoa was of great nutritional importance to the early Andean civilizations - indeed the Incas referred to it as the "mother of all grains" or "chisaya mama". Unlike other grains, quinoa contains a balanced set of essential amino acids, making it a complete source of protein for humans. It is also high in magnesium and iron, is gluten-free and easy to digest, and is a rich source of dietary fibre and phosphorous.
In its natural state, quinoa has a bitter-tasting coating of saponins which provide a natural deterrent to birds. Most of the commercially sold quinoa has been processed to remove this unpalatable coating; if unprocessed remove the saponins by soaking the quinoa in water for several hours, then change the water, resoak, and rinse well.
Quinoa can be cooked much like rice (I like to cook it in some vegetable or chicken stock), and can be used as a great alternative to rice, couscous or pasta. Once cooked it is light and fluffy in texture, has a slightly nutty flavour, and is slightly chewy to the bite. You will also find quinoa pasta and quinoa flour in many natural food stores.
So now it's time to get cooking - put your thinking cap on, get creative, and see what you can come up with. Maybe you'll make a delicious, healthy salad; an interesting "risotto" or pilaf; some burgers, muffins, cakes or cookies. I'm sure there are many "unexpected" ways in which you could use this ingredient. Can't wait to see what you come up with.
There are really only two rules for participating in this event:
Your post must feature this week's ingredient. If, however, over time you have found a good substitute when you come across this ingredient in recipes (maybe because you don't like it, or it's not readily available in your area, or someone in your family has an allergy to it), then, please tell us about it, show us what you use instead and explain to us why, and then of course link up - this is after all a learning experience and it's good to know about alternatives.
Your blog post must link back to this post and mention "Make it with ..... Mondays"
That's it - create your post (or feel free to link up an old post if you have one that uses this week's ingredient); multiple posts are welcome; then scroll down to the bottom of this page where you will see a small box that says "You are next, click here to enter". Click on that link, and follow the simple instructions - please link directly to your post, not just your blog home page.
Want to join in but don't have a blog? No problem - just email me your thoughts, ideas and recipes, and I'll include them in a round-up the following week. To email me just go to the "Contact Me" button on my sidebar.
If you would like to use a badge in your post, simply copy the code in the box beneath the badge below and paste it into your post. Feel free to also use it in your sidebar if you wish.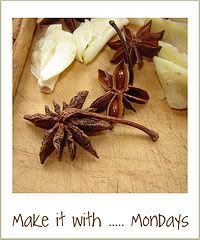 Please link your posts for "Make it with ..... Mondays" challenge quinoa using the linky at the bottom of this page. The linky will be open until 11.59am Monday 31 January (NZT).
Please go to
this page
to link your posts for "Make it with ..... Mondays"
challenge vanilla
. The linky will be open until 11.59am Monday 24 January (NZT).