Goodness, a whole week has now flashed past since "
Make it with ..... Mondays
" kicked off with our very first special ingredient - saffron. Thank you so much to those of you have already participated, and just a reminder that the
linky for joining your saffron posts
is still open for another week (closing midday Monday 17 January - NZ time). So keep those saffron recipes coming - remember that you can link up as many posts as you like (as long as saffron is one of the ingredients), and linking up old posts is fine too.
I've really enjoyed exploring this unique ingredient in some different ways, making a rich, moist
Saffron Fruit-and-Nut Bread
and a
Saffron and Blueberry Champagne Jelly
. I had great hopes of trying a saffron ice cream as well, but didn't quite fit that into my week - still there's another whole week to go, so maybe I will get to that yet.
But for now it's time to turn our attention to this week's special ingredient .....
Vanilla
Vanilla is the flavouring derived from the fruit of a species of tropical orchid, called Vanilla planifolia, and is widely used in both domestic and commercial baking, as well as aromatherapy and perfume manufacture. The plant grows as a vine and is native to Mexico, although it is now widely grown throughout the tropics, with Madagascar being the largest producer. European traders discovered vanilla in the early 1500s; however, any attempts to cultivate the vanilla plant outside of its native lands failed, because of the unique relationship between the vine and the native species of melipona bees which did not exist in the new growing countries.
In the 1841 a young French-owned slave, discovered a method of hand-pollinating the orchid flowers, which is the method still used in commercial operations today. Each flower lasts only for one day (sometimes less), so plantations have to be inspected daily to look for open flowers, which are then pollinated by hand. This of course is highly labour intensive, and naturally makes the crop expensive to produce - second only to saffron.
Once the flower has been pollinated, the seed pod begins to form and although it develops fairly quickly it takes about 10 months of maturing on the vine before it is ready for harvesting. Each bean ripens in its own time, so harvesting is a daily selection process - as labour intensive as the pollination. The best commercial value lies in each individual bean being hand picked at exactly the right moment.
After harvesting, the beans are then cured, dried and graded. Grading is mostly on the basis of length (which also correlates to vanillan content).
When buying vanilla beans, look for beans which a moist, plump and pliable, and store them in an airtight container. You can also readily buy vanilla extract, vanilla paste, vanilla powder, as well as vanilla essence (although this is inferior in quality and is often artificially manufactured).
So now it's time to get cooking - put your thinking cap on, get creative, and see what you can come up with. Maybe you'll make a rich, luscious vanilla ice cream; poach or roast some fruit in a thick, fragrant vanilla syrup; bake a cake or some cookies; have a go at making your own vanilla extract or vanilla sugar. Or perhaps you'll go right outside the square -
Joanne at Eats Well With Others
recently made this
Butternut Squash and Vanilla Risotto
- looks wonderful and I definitely want to try this. Maybe there are other "unexpected" ways in which you could use this ingredient. Can't wait to see what you come up with.
There are really only two rules for participating in this event:
Your post must feature this week's ingredient. If, however, over time you have found a good substitute when you come across this ingredient in recipes (maybe because you don't like it, or it's not readily available in your area, or someone in your family has an allergy to it), then, please tell us about it, show us what you use instead and explain to us why, and then of course link up - this is after all a learning experience and it's good to know about alternatives.
Your blog post must link back to this post and mention "Make it with ..... Mondays"
That's it - create your post (or feel free to link up an old post if you have one that uses this week's ingredient); multiple posts are welcome; then scroll down to the bottom of this page where you will see a small box that says "You are next, click here to enter". Click on that link, and follow the simple instructions - please link directly to your post, not just your blog home page.
Want to join in but don't have a blog? No problem - just email me your thoughts, ideas and recipes, and I'll include them in a round-up the following week. To email me just go to the "Contact Me" button on my sidebar.
If you would like to use a badge in your post, simply copy the code in the box beneath the badge below and paste it into your post. Feel free to also use it in your sidebar if you wish.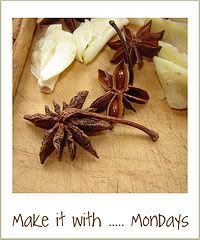 Lastly, don't forget my giveaway of a free copy of the
How to Cook Everything iPhone application
(full details
here
). All comments here, or email contributions, automatically earn an entry, and every post linked also earns another entry. If the post you link up also happens to be a
Mark Bittman
recipe, then you earn an extra entry.
Now go, get cooking .... what are you waiting for?!
Please link your posts for "Make it with ..... Mondays" challenge vanilla on this page. The linky will be open until 11.59am Monday 24 January (NZT).
Please go to
this page
to link your posts for "Make it with ..... Mondays"
challenge saffron
. The linky will be open until 11.59am Monday 17 January (NZT).