Welcome to the very first "Make it with ..... Mondays".
As I told you
the other day
, when I first started this blog one of the most important things I wanted to do was to create a platform to both educate my readers and push my own culinary boundaries, to learn more about making good food choices and develop my cooking skills - this blog, after all, is just as much about my own education and growth, both as a cook and as a person, as it is about sharing my knowledge with you. I wanted to develop a platform where we could learn and cook together, exchanging ideas and knowledge along the way, and I got such a great response last year to my
mystery photo series
that I'm pretty sure you're interested in that too.
With that in mind, I came up with the idea of "Make it with ..... Mondays", where each week I will choose a different ingredient, challenge you to use it and post about it, and by offering a "linky" tool provide you with the opportunity to exchange your ideas and recipes with others.
Now, don't worry, I'm not going to challenge you to try and come up with an appetising dish made from something as obscure or unappealing as reindeer urine and, given that living at opposite ends of the earth means that not everyone is enjoying the same season at the same time, I am mostly going to steer clear of seasonal produce. But we all have less frequently used ingredients in our pantry that perhaps we bought to make a special dish, used a 1/4 teaspoon out of the jar/packet, and now two years later we're still wondering what to do with the rest - aw, come on, I know you have - I just know I'm not the only one who does that. Or, maybe you even bought an ingredient when you saw it at the market because you just knew that you had seen a recipe somewhere that required it - now, if you could only just remember where you saw that recipe! Maybe you just bought that special ingredient because you were intrigued by it, liked the sound of it, or liked the look of it, liked its pretty packet, but now you're really not sure what to do with it.
So, that's what "Make it with ..... Mondays" is all about - getting out those not so frequently used ingredients and cooking with them, and sometimes we'll cook with a more commonly used ingredient (like chocolate) but I'll encourage you to try and find a less conventional way to use it - mmmm, wonder which one of you is going to come up with a recipe for chocolate body paint!
I do hope you'll join in. Just remember that this is very much about exploring the ingredient and sharing your experiences, and especially about having fun. I want to know what you thought of the ingredient, other ideas you might have for using it, etc, as well as seeing your recipes - I want you to share the successes and the failures.
So, exactly how do you join in? I'll get to that at the end of the post and, by the way, you don't have to have a blog to join in, which will also be explained at the end. But first let's look at this week's ingredient .....
Saffron
Long considered the world's most expensive spice by weight, saffron comes from a crocus flower native to South America. Each flower bears three stigmas which, after harvesting, are dried and used in cooking as well as a colouring agent.
Most of the world's saffron production takes place in a belt of land across Spain, Greece, Italy, Iran (which produces in excess of 90% of the world's total crop), Morocco, Azerbaijan, India, and Kashmir. Smaller boutique crops are also grown in New Zealand, France, United States, Switzerland and England.
It takes between 50,000 and 75,000 flowers to produce about one pound of dry saffron (about 150,000 to 200,000 threads), which would require an area of cultivation approximately equivalent to the size of a football field, and which would take approximately 20 hours of labour to pick.
Egyptian healers used saffron to treat a variety of gastrointestinal illnesses, as well as making medicines to treat colic, coughs, wounds and scabies, and Cleopatra is reputed to have used saffron in her baths to make lovemaking more pleasurable.
Used in cooking, saffron imparts a rich golden-yellow colour to food, together with an earthy flavour, and grassy, hay-like aroma; but, be warned, use it with restraint as too much will result in bitter and somewhat muddy flavour - not at all pleasant. For best results the saffron strands are infused in a warm liquid before using to release the most colour and flavour. When purchasing look for a vivid crimson colour, and lack of broken threads, both of which indicate freshness, and if possible choose threads over powdered saffron which can be adulterated with tumeric, paprika and other powder fillers.
So now it's time to get cooking. To give you a little bit of inspiration you might want to check out these previous posts of mine, which all used saffron in some way ...
Now, down to the nitty gritty. There are really only two rules:
Your post must feature this week's ingredient. If, however, over time you have found a good substitute when you come across this ingredient in recipes (maybe because you don't like it, or it's not readily available in your area, or someone in your family has an allergy to it), then, please tell us about it, show us what you use instead and explain to us why, and then of course link up - this is after all a learning experience and it's good to know about alternatives.
Your blog post must link back to this post and mention "Make it with ..... Mondays"
That's it - create your post (or feel free to link up an old post if you have one that uses this week's ingredient); multiple posts are welcome; then scroll down to the bottom of this page where you will see a small box that says "You are next, click here to enter". Click on that link, and follow the simple instructions - please link directly to your post, not just your blog home page.
Want to join in but don't have a blog? No problem - just email me your thoughts, ideas and recipes, and I'll include them in a round-up the following week. To email me just go to the "Contact Me" button on my sidebar.
This link will be open 2.00 pm Monday 3 January to 11.59am Monday 17 January (NZT).
If you would like to use a badge in your post, simply copy the code in the box beneath the badge below and paste it into your post. Feel free to also use it in your sidebar if you wish.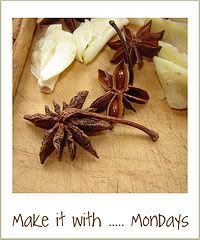 Lastly, don't forget my giveaway of a free copy of the
How to Cook Everything iPhone application
(full details
here
). All comments here, or email contributions, automatically earn an entry, and every post linked also earns another entry. If the post you link up also happens to be a
Mark Bittman
recipe, then you earn an extra entry.
Now go, get cooking .... what are you waiting for?!