If you've been visiting here for a while, then you know that I'm not much of a soupy person - now and again is fine, but not something I go in for on a regular basis. However, this recipe for red pepper soup was one of the first things I bookmarked when I bought Tessa Kiros' book,
Falling Cloudberries
.
I was so captivated by the incredible colour, I longed for this soup every time I opened the book - have you noticed the way some books just seem to fall open at a certain page nearly every time you open it? Anyway, now that peppers are in plentiful supply (and you don't need a mortgage to buy them), the time seemed right to give this a try.
It's also our Pot Luck week at
I Heart Cooking Clubs
, and soup seems like a good dish to bring for a Pot Luck. That actually got me thinking - you can see from the picture that this is finished off with a dollop of yoghurt, some chopped black olives, fresh basil, and some freshly grated lemon zest. A couple of years ago, I did a cooking class in Barcelona at which we made a chilled tomato soup. We also made a walnut and basil pesto which accompanied the soup. The soup was then presented in small shot glasses, with a wee dollop of the pesto on top, and finished off with some freshly grated Idiazabal cheese (a Spanish sheep milk cheese - I've never come across it here, but it tastes rather like a smokey pecorino). Anyway, as I say, that got me thinking that if you were serving this soup for a crowd or as part of a multi-course meal, I think it would be lovely served in some small glasses (or interesting cups) with the toppings delicately arranged on top. Tessa suggests other possible toppings - rosemary, cream, a drizzle of chilli oil or truffle oil, maybe even a couple of grilled prawns. I think also a dollop of creme fraiche or mascarpone could be a nice alternative to the yoghurt. This could also be nice for a gathering served in small glasses, with all the toppings set out on the table in individual dishes for your guests to "dress" their soup according to their tastes.
Whatever ... no matter how you serve this soup you're going to love it. The colour is sublime, the texture thick and velvety, and the flavour bold and robust. I hope you will try it.
I did make a few minor adjustments to the recipe. Firstly, Tessa suggests cutting the peppers in half and then grilling them - I chose to leave the peppers whole and roasted them. This enabled me to retain a lot of the juice which comes out of the peppers, and which juice I then substituted for some of the liquid in the recipe. Secondly, the recipe calls for four ripe tomatoes
or
a tin of tomatoes - I happened to have a couple of tomatoes sitting round in my fruit bowl so I used those
as well as
the tin of tomatoes. Also, having all the juice that came out of the peppers, plus the extra tomatoes, and being a little bit suspicious of the quantity of water asked for (especially after
last week's chicken curry
), I cut the water back quite a bit, and found the amount of water I used was just perfect.
Roasted Red Pepper Soup with Olives, Lemon & Yoghurt
Adapted from recipe by Tessa Kiros
Click here for a printable copy of this recipe
4x red peppers
2 tablespoons olive oil
2x garlic cloves, finely sliced
2x shallots, finely sliced
2x ripe tomatoes
400g (14 oz) tin tomatoes
flaky sea salt & freshly ground black pepper
To serve:
plain Greek-style yoghurt
black olives, remove pits and finely chop
freshly grated lemon zest
fresh basil leaves, finely shredded
extra virgin olive oil
Preheat the oven to 180 degrees C (350 degrees F). Place peppers in a shallow baking dish, and roast in the preheated oven, turning from time to time, until the skin has blackened in places on all sides, and the peppers are slightly soft. Remove from the oven and put the peppers into a plastic bag. Set aside for about 10 minutes to sweat - this will enable the skins to slide off easily. When cool enough to handle, peel the skins off the peppers and discard, at the same time removing and discarding the seeds and core. Work over a bowl so that you catch all the juice that comes out of the peppers. Tear the flesh of the peppers up into largish pieces and set aside.
Using the large holes of a box grater, grate the flesh of the fresh tomatoes, then discard the skin - much easier than peeling and chopping. Roughly chop the tinned tomatoes (tip - in my experience, it is always better to buy tinned whole tomatoes and chop them, than buying tinned chopped tomatoes).
Heat the olive oil in a large pan, over moderate heat. Add the garlic and shallots, and saute for a couple of minutes until the shallots have softened and the garlic is fragrant. Add both the grated fresh tomatoes and the tinned tomatoes, and cook until it begins to bubble. Add the chunks of roasted peppers and all the juice that came from the peppers (straining the juice as you do so if there are any errant seeds you want to get rid of). Season liberally with flaky sea salt and pepper. Fill the empty tomato tin with warm water, swirl it around a little to loosen any tomato juice that might be clinging to the sides of the tin, and then pour into the soup pan. Bring up to the boil, then reduce the heat, cover the pan, and simmer for about 30 minutes.
Remove pan from the heat and puree the soup (a stick blender is ideal here if you have one). The soup should be quite thick, but just add a little more water if it seems too thick. Alternatively, if it's not thick enough, return to the heat and simmer uncovered for a little while longer.
Check and adjust the seasoning, then serve topped with a dollop of yoghurt and sprinkled with chopped black olives, lemon zest, and basil. Finish if desired with a drizzle of extra virgin olive oil or infused oil of your choice.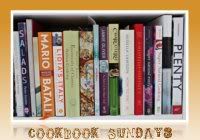 This dish is my contribution this week to
Cookbook Sundays
, where my friends are delving into their cookbook collections and sharing some of their recipes. Do stop by to see what they're cooking - you might even feel inspired to link up a recipe from one of your own cookbooks.
I'm also sharing this dish at this week's Pot Luck for Tessa Kiros. If you would like to get to know Tessa a little better, then do go and visit my friends at I Heart Cooking Clubs and see what they've all cooked up ...