What do you do when life gives you zucchini? Anyone who has ever grown a zucchini or courgette plant knows just how prolifically these things can produce. I have just one plant in my garden, and I'm picking two to three of these wee babies every day.
The joy of growing them oneself is being able to pick them when they are little bigger than your index finger, often with the flower still attached. This, in my view, is when they are at their absolute best - the skin is glossy and crisp, and the flesh delicate and creamy. I've sliced them thinly with a mandoline and eaten them raw in all manner of salads. I've grilled them. I've grated them and turned them into Kolokithokeftedes - the courgette fritters, spiked with mint and dill, and served with garlicky tzatziki that I enjoyed so often on my Greek island holidays. I've used them, shredded, in a raw pasta sauce with fresh tomatoes, garlic and basil - one of my favourite ways to enjoy pasta in the summer. I've stuffed the flowers and served them with a cherry tomato dressing - one of my favourite
Mario Batali
recipes which I promise to share with you shortly. And, I've enjoyed both the flesh and the flowers in a delicate frittata, made for me by the lovely
Sasasunakku
when she came to stay - I hope she comes again. (Digressing slightly, trust me when I tell you that Sasa is one of the best house guests I've ever had. So if she ever suggests coming to visit you in your corner of the world, open the door as wide as you can - you won't be disappointed.)
The recipe I want to share with you today was inspired by a Pasta and Fried Zucchini Salad from one of my favourite cookbooks -
Plenty
by Yotam Ottolenghi.
The original recipe combined fried zucchini with edamame, pasta and buffalo mozzarella. However, lacking both edamame and buffalo mozzarella, and not wanting to venture out to the supermarket, I used some frozen peas and feta - both of which I had on hand. I also swapped the pasta out for some quinoa, since I was in the mood for something a little lighter. I cook quinoa up in big batches, and then store it in smaller quantities, in snaplock bags, in the freezer - it thaws pretty quickly, and is great to have on hand for a quick meal. I do this too with things like cooked chickpeas, beans and rice.
Fried Zucchini, Pea & Quinoa Salad
Adapted from recipe by Yotam Ottolenghi
Click here for a printable copy of this recipe
2-3 tablespoons olive oil
4 small (or 2 medium zucchini), cut into .5cm (1/4 inch) thick slices
1 tablespoon red wine vinegar
1/2 cup frozen peas
1-1/4 cups fresh basil leaves, coarsely chopped
1/4 cup olive oil
flaky sea salt
freshly ground black pepper
1-1/2 cups cooked quinoa
grated zest of 1 lemon
1 tablespoon capers
100g (3-1/2 oz) feta, crumbled
Bring a small pot of water to a boil. Salt the water liberally, add the peas and blanch for just a couple of minutes. Drain, refresh in cold water, drain again and set aside to dry.
Meanwhile, heat 2-3 tablespoons olive oil in saute pan over medium-high heat. Fry the zucchini slices until golden brown on both sides - take care not to overcrowd them, so cook in batches if necessary. Once cooked remove from pan and drain in a colander. Put the drained zucchini into a small bowl, add the red wine vinegar, stir, and set aside.
In a food processor, blitz up half the basil with the olive oil, salt and pepper, until you have a smooth sauce.
Put the cooked quinoa into a serving bowl. Add the zucchini and their juices, the peas, lemon zest, capers, basil sauce and feta. Toss everything together gently, taste and add more salt and pepper as necessary. Stir through the rest of the basil and serve.
I served this with some roasted shrimp on the side. My favourite new way to prepare shrimp or prawns - toss the shrimp with olive oil, minced garlic, salt, pepper and smoky paprika; spread in a single layer in an ovenproof dish; bake in a preheated 180 degree C (350 degree F) for about 8 minutes, until the shrimp are pink and firm to the touch.
I hope you'll give this salad a try - the quinoa is healthy, nutritious, and has a lovely nutty flavour which marries well with the fried zucchini and feta. A glass of pinot gris on the side and you have the perfect summer meal.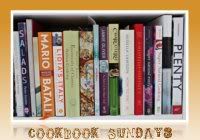 This dish is my contribution this week to
Cookbook Sundays
, where my friends are delving into their cookbook collections and sharing some of their recipes. Do stop by to see what they're cooking - you might even feel inspired to link up a recipe from one of your own cookbooks.