It was bound to happen sooner or later - a Tessa Kiros recipe that left me feeling a little disappointed.
Our theme this week at
I Heart Cooking Clubs
, where we are spending six months cooking the recipes of Tessa Kiros, was "Some Like it Hot ... and Spicy!" - an opportunity to heat things up with a bit of chilli, or introduce some warming spices to a heart-warming dessert or sweet treat.
To be honest, I wish I'd stuck with the buns, since both Kim and Natashya raved about them, and I find myself falling a long way short of being able to rave about this recipe. Now don't get me wrong - it wasn't terrible or objectionable - but when you are used to eating and making a lot of Indian food, as I am, it just fell rather short. Despite the variety of spices in here, the flavours were somehow not fully rounded out and felt a little unbalanced, and the gravy failed to thicken and emulsify as it should have.
I think, however, the recipe is not beyond redemption. I would make this again, but there are a number of modifications that I would make which I think would improve it considerably. Below I have recorded the recipe from the book, as that is what I made, and then at the end I have included my notes for what I would do to improve this. I'm going to make my improved version next week, so I'll be sure to let you know how that goes.
Don't you love the way I managed to capture my own reflection in the bowl - try cloning that out!!
Chicken, Coconut & Cashew Nut Curry
Recipe by Tessa Kiros from
1 teaspoon ground coriander
1 teaspoon ground cumin
pinch freshly grated nutmeg
1/2 teaspoon ground cardamom
4 cloves
1 bay leaf
1 heaped tablespoon garam masala
pinch freshly ground black pepper
3 tablespoons vegetable oil
1.25 kg (2lb 12oz) chicken thighs, skinned, boned & flesh diced
(use bone-in thighs for better flavour)
2 onions, finely diced
salt
45g (1-1/2 oz) dessicated coconut
70g (2-1/2 oz) roasted, unsalted cashews
1 cup plain yoghurt
Dry roast the coriander, cumin, nutmeg, cardamom, cloves, bay leaf and garam masala and black pepper in a non-stick pan set over high heat. Stir-fry until fragrant - just a couple of minutes, then remove from the pan and set aside.
Heat the oil in a large saucepan, and brown the chicken and onions (you may have to do this in batches). Add the spices, stirring until fragrant, and making sure all the chicken and onions are well coated with the spice mix. Season generously with the salt. Add the coconut and 2 cups water, bring to the boil.
Reduce the heat, cover the pan, and simmer for about 30 minutes, stirring from time to time. Cut the cashew nuts in half, add to the pan and cook for a further 10 minutes. (Tessa suggests adding more water, if it looks as though it needs it - I think that's unlikely, if anything I found it too watery)
Lastly, stir in the yoghurt. Simmer for another minute or two without allowing it to come to a boil. Serve with steamed, buttered, basmati rice.
My recommended changes:
Replace ground spices with whole spices
I would suggest replacing the nutmeg with a cinnamon stick, and substituting the ground pepper with half a dozen dried red chillies.
Cut the onion back to just one, but add a dozen garlic cloves and a knob of ginger, to round out the flavour a bit more.
Increase the amount of coconut - probably about double, and increase the amount of cashew nuts - again probably at least double.
Dry roast the wholes spices, along with the coconut, ginger and garlic over low heat for about 5 minutes, and then add about a third of the cashews and the onion, and continue to roast for maybe another 10-15 minutes. Allow to cool completely, and then grind up in a blender with some water until you have a smooth, fine paste. This should extract maximum flavour and help to get a thick, emulsified gravy.
Then heat oil in a large pot, and fry this spice paste for around 10 minutes, before seasoning with salt, add the chicken, and fry for a few minutes making sure chicken is well coated with spice mixture.
Add water, and simmer for about 10 minutes before adding the rest of the cashew nuts, and continue simmering until the chicken is cooked through.
I would leave the yoghurt out, but maybe add some lemon juice and grated lemon zest to the rice.
As I mentioned earlier, I'm going to try out these changes next week, so I'll let you know how it works out, but I feel pretty confident it will deliver I better balanced flavour, and a good, thick gravy.
If you would like to get to know Tessa a little better, then do go and visit my friends at I Heart Cooking Clubs and see what they've all cooked up ...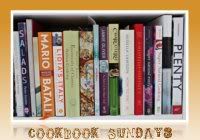 I'm also sharing this at
Cookbook Sundays
, where my friends are delving into their cookbook collections and sharing some of their recipes. Do stop by to see what they're cooking - you might even feel inspired to link up a recipe from one of your own cookbooks.