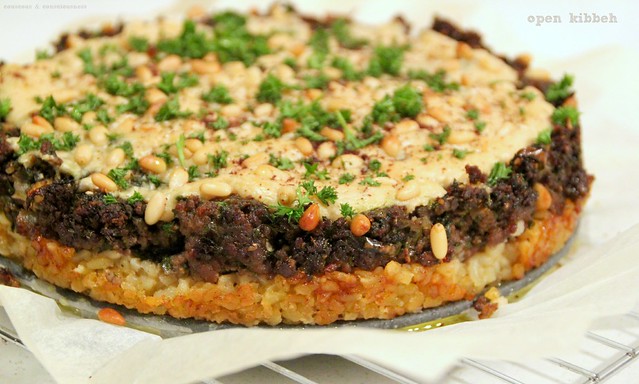 This month at
Tasting Jerusalem
*, we're exploring tahini - a paste made from grinding sesame seeds, which is a key ingredient in many Middle Eastern dishes, most well-known probably being hummus.
In the past, I've made a few dishes using tahini from my favourite cookbook, Yotam Ottolenghi's "
Jerusalem
" ...
...
Fried Cauliflower with Tahini & Pomegranate
,
...
Butternut Squash & Tahini Spread
,
... and the insanely, insanely, insanely good
Hummus Kawarma with Lemon Sauce
.
But I was yet to try the Open Kibbeh. I'd had this one bookmarked for ages, and with this week being Pot Luck week at
I Heart Cooking Clubs
, it seemed like the ideal opportunity to give this dish a try. Kibbeh is a Middle Eastern dish, most commonly prepared (as I understand it) as a kind of bulghur wheat croquette, stuffed with minced lamb, and served with a tahini sauce.
In this less conventional version, the kibbeh is prepared more like a kind of savoury "cake". A base of bulghur wheat, topped with fragrant, spicy lamb, all topped off with a tahini sauce.
Once again, Ottolenghi did not disappoint me. This was a wonderfully flavourful dish - great for a wintery evening, and would be excellent for a weekend lunch dish as well. When I was a kid, my grandmother often made an Indian dish of Potato Cutlets - patties made of mashed potato, filled with savoury mince, and then fried until crispy and golden. The flavours and textures of Ottolenghi's Open Kibbeh filled me with nostalgia, reminding me a great deal of those potato cutlets of my childhood.
I made only very minimal changes to the recipe - I used banana shallots instead of onions, replaced the spices called for in this recipe with some of the
baharat spice mixture
I made a while back, and cut down the oil a little.
The final dish is best served warm or at room temperature, rather than straight out of the oven - it's also likely to fall to bits if you try to serve it too hot - and in typical Ottolenghi fashion is a triumph of taste and texture. You can be sure that I will be making this again - I hope you will try it too.
Open Kibbeh Recipe
Adapted from recipe by Yotam Ottolenghi & Sami Tamimi
from
Jerusalem, A Cookbook
Serves 4 as a light meal with salad
Click
here
for a printable copy of this recipe
125g (4oz) bulghur wheat
olive oil
1x large banana shallot, finely chopped
2x cloves garlic, crushed
1x green chilli, finely chopped (remove seeds if you don't want the heat)
350g (12 oz) minced lamb
3 teaspoons baharat spice mixture
large handful fresh coriander, roughly chopped
large handful fresh parsley, roughly chopped
flaky sea salt & freshly ground black pepper
generous handful of pine nuts
2 tablespoons self raising flour
1 tablespoon of olive oil
2-3 tablespoons tahini paste
juice of half a lemon
warm water
flaky sea salt
To finish:
sumac
fresh parsley, roughly chopped
extra virgin olive oil
Preheat oven to 190 degrees C (375 degrees F). Lightly grease a 20cm springform or loose-bottomed cake tin, and line the base with non-stick baking paper.
Put bulghur wheat in a small bowl, cover with boiling water, and set aside for 30 minutes.
Meanwhile, heat a little olive oil (about 1 tablespoon) in a large frying pan set over medium heat. Add chopped shallots, garlic, and chilli to the pan, and saute until softened. Add the lamb, and continue to saute until the lamb is lightly browned - about 5 minutes.
Stir in the baharat spice, coriander, parsley, about two-thirds of the pine nuts, and a generous pinch each of flaky sea salt and freshly ground black pepper. Cook for a couple more minutes. Remove from heat, taste and adjust seasoning as necessary.
Strain any remaining liquid off the bulghur. Add the flour, 1 tablespoon of olive oil, and a pinch each of salt and black pepper. Work with your hands till you have a mixture that is starting to hold together. Tip the wheat into the prepared cake tin, and press firmly over the base of the tin - I found it easiest to work with slightly wet hands. Spread the wheat out into an even layer which is quite firmly compacted. Spread the lamb mixture evenly over the top of the wheat, and again press down quite firmly.
Bake in preheated oven until the lamb is hot and well browned - about 20 minutes.
Meanwhile prepare the tahini sauce. Mix tahini paste with the lemon juice and a pinch of flaky sea salt. Then add enough warm water (a little at a time), until you reach a sauce which is thick yet pourable.
Remove the kibbeh from the oven. Pour tahini sauce evenly over the top, sprinkle with the remaining pine nuts, and return to the oven until the tahini is set and lightly browned and the pine nuts are golden.
Remove from the oven and leave to cool to room temperature before removing from the tin. To serve, sprinkle over fresh parsley and sumac, and finish with a drizzle of extra virgin olive oil.
If you would like to get to know Yotam Ottolenghi a little better or any one of our other IHCC chefs, then do go and visit my friends at
I Heart Cooking Clubs
and see what they've all cooked up for Pot Luck week ...
* Have a look also at what my "
Tasting Jerusalem
" friends have been doing - you'll find plenty of other great uses for the tahini, along with other interesting ingredients as well. (
"Tasting Jerusalem is a virtual cooking community exploring the vibrant flavors and cuisine of the Middle East through the lens of "Jerusalem: A Cookbook" by Ottolenghi and Tamimi published by Ten Speed Press. You can follow along and cook with us by subscribing to omgyummy.com, following the hashtag #TastingJrslm on Twitter and Instagram, liking our Facebook page or joining our Google+ Community and finally checking out all of our groups' dishes on Pinterest.")