I don't think anyone has ever described autumn better than the English Romatic poet, John Keats, who in his poem "To Autumn" describes it as "Season of mists and mellow fruitfulness". This is indeed a time when the light is softer, misty mornings give way to glorious golden days, and trees are laden with fruit, including one of my favourites - quinces.
It also seems like a time for reflection - a time when, after the summer months, we begin to retreat indoors, slow down and take stock. And I have much to reflect on this autumn.
This is a photo of my beautiful cousin Cindy, marrying her partner of some 20 years, back in late September. Sadly, at the time of their wedding, Terry was in the final stages of his battle with lung cancer and died just two days after the wedding. What a bitter-sweet occasion that was. For most of us there, we knew that this would quite possibly be the last time we would see Terry alive, but despite the sadness the occasion was a real opportunity for us all to share some celebration with Terry before his passing.
This is a photo of me taken at that wedding with my Dad and my Aunty Helen. I'm tempted to say she is my favourite aunty, but in truth I have several aunties and I love each of them in their own way. Still Aunty Helen has a special place in my heart. She is the youngest of my father's siblings, and when I was younger I thought she was the absolute epitome of glamour. Before the grey, she was a stunning redhead, and I wouldn't go quite so far as to say she was the family "wild child" but there was, and still is, definitely a naughtiness about her. As a younger woman she had a shoe collection that could have rivaled Imelda Marcos, and as a talented seamstress her wardrobe was enviable. I recall times as a teenager when Aunty Helen would come to stay. Much to my delight she would share my room, and I would sit on the bed gaping in awe as she unpacked something like 15 pairs of shoes and 10 cocktail dresses for a one week stay. She would go off on dates or out to dances, and the minute she left the house I would dive into the bedroom to try on all the shoes and frocks. I can remember occasions as a child, when I was probably being a little trying, when my mother would put her hands on her hips, look at me with absolute exasperation, and say "You've just like your Aunty Helen". I'm pretty sure it wasn't intended as a compliment, but I was always secretly delighted.
Sadly now, my dear Aunty Helen is rapidly approaching the end of the autumn of her life. She has been diagnosed with a very rare disease, always fatal. In the time since that photo was taken, barely six months ago, she has deteriorated rapidly and what remains now of her life can be measured in days and weeks rather than years. I'm grateful to have the memory of sitting with her at Cindy and Terry's wedding, laughing, reminiscing, and listening to some of her naughty jokes, and am reminded that the things we take for granted in this life can be over in an instant. The importance of slowing down, cherishing the now, and taking time to smell the quinces can never be overstated.
And so, enough reflection, on with the quince. If you've never tried quince before I urge you to do so. I guess the fruit is something like a cross between an apple and a pear, but the taste is really nothing like either. In fact it's impossible to liken it to anything else. A bowl of quince on your kitchen bench will fill the whole room with its fragrance, and the perfume as these quince roast for 8 hours is nothing short of heavenly.
This recipe is from one of my favourite cookbooks, "
Maggie's Kitchen
" by Maggie Beer, and is my contribution this week to
Cookbook Sundays
- keep reading to read more and particpate.
Slow-Roasted Quince with Cinnamon & Orange Recipe
Adapted from recipe by Maggie Beer from
Click here for a printable copy of this recipe
1.5kg (3.3 lb) quince
2 lemons, juice of
600 ml (20 fl oz)water
1x orange
400g (14 oz) caster sugar
1x cinnamon stick
Preheat oven, on regular bake, to 90 degrees C (194 degrees F).
Peel and core the quinces (reserving the peels and cores), and cut the fruit into eighths. Pour and rub lemon juice over the fruit as you work to stop them browning.
Tie the quince cores and peels up in a large piece of muslin, and place in a stainless steel saucepan. Using a vegetable peeler, remove the zest of the orange in wide strips, and add to the pan, along with the juice of the orange, the water, caster sugar and cinnamon. Bring to the boil, then reduce heat to medium and simmer for 15 minutes or until syrupy. Remove the muslin bag and discard it. Reserve the cinnamon stick and orange zest.
Put the quince pieces into a shallow baking dish - choose one which is just big enough for all the quince to fit snugly in a single layer. Add the reserved zest and cinnamon, and enough of the syrup for the quince to be roughly three quarters deep in the syrup. Cover closely with a piece of baking paper, cut to fit inside the dish and tucking in the edges.
Roast for 8 to 9 hours, turning from time to time, until the quince have turned a rich ruby colour and tender, and the pan juices are syrupy. If necessary, remove the paper and increase the oven temperature to 120 degrees C (250 degrees F) for the final hour.
Serve with good quality vanilla ice cream, yoghurt or vanilla-infused mascarpone.
I'm sharing these quince this week at
Cookbook Sundays
, where my friends are delving into their cookbook collections and sharing some of their recipes. Do keep reading to see what they're cooking - you might even feel inspired to link up a recipe from one of your own cookbooks.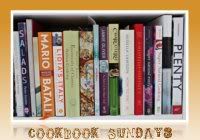 I am also sharing this post with
Sweet New Zealand
, a monthly blog event created by the very lovely
Alessandra Zecchini
, and which this month is hosted by
Frances at Bake Club
. This is an opportunity for all Kiwi bloggers (whether you are living in New Zealand or overseas), as well as for non-Kiwi bloggers living in New Zealand, to connect and share some of those sweet treats from your kitchen. So,
head on over and share something swee
t. And because all good things are made to be shared around, I am also sharing them at
See Ya in The Gumbo
hosted by my lovely friend
Michele at Ms. enPlace
, and at
Foodie Friday
hosted by
Designs by Gollam
. Anybody else want a share?
If you're anything like me you have dozens of cookbooks gathering dust on your bookshelves, some of which have never even been cooked from. Sure I spent hours browsing through them when I first bought them, marking all the recipes I was going to make with little post-it notes, and yet still those books languish in the bookcase and never make it to the kitchen. There are others from which I have made but one recipe which was such a resounding success that I've made it over and over again, and yet somehow I've never made anything else from that book. Sound a bit familiar?!
Take comfort - you are not alone, and now Cookbook Sundays is your opportunity to change that. Every Sunday I'm going to share with you a recipe that I haven't made before from one of my ever expanding collection of cookbooks. And, because I know that if you have read this far then you are guilty of this too, I'm inviting you to join in with me. Each week my Cookbook Sundays post will have a linky for you to share something you've cooked from one of your cookbooks.
The rules for joining in are simple:
Your post must state the author and the title of the book your recipe has come from.
Your post must mention Cookbook Sundays and link back to this post. Including the Cookbook Sundays badge is optional, but always appreciated.
You may submit as many entries as you like, and you may use the same cookbook as many times as you like. Old posts are also welcome.
Lastly, remember that what goes around, comes around - one of the reasons you are participating in this is because you want people to read your posts, so do the right thing and go and visit a few of the other participants - you can even "Like" your favourites.
Now, go and dust off those cookbooks and get cooking! Use the linky tool at the end of this post to submit your entry/entries - simply scroll down to where it says "You are next ... Click here to enter", and then follow the instructions. The linky will be open for one week.
Lastly, if you would like to use the Cookbook Sundays badge in your post, simply copy the code in the box beside the badge below and paste it into your post. Feel free to also use it in your sidebar if you wish.