This was going to be a post for Risotto with Artichokes and Italian Sausage, and I'm sure you can see the connection .... oh, not so obvious?
Ok, let me explain. This week at
I Heart Cooking Clubs
, where we are enjoying six months of cooking with Tessa Kiros, our theme is Under the Tuscan Sun. "Excellent!!" I thought, as I had long ago bookmarked Tessa's recipe for risotto with artichokes and Italian sausage in the Italian section of her book,
Falling Cloudberries
, and I knew this would be the perfect occasion for making and posting it. With me so far?
Well, I need to go back a bit. Last week at
IHCC
our theme was Winter Wonderland - an opportunity to break out all those lovely wintery, comforting dishes likes soups, stews and lasagnes. Of course, they're a pretty good group over there, and they realise that not all of us are blanketed under several inches of snow right now. So those of us residing in warmer climes right now were directed to come up with some kind of icy treat, something that reminds us of ice and snow.
When I came across Tessa's Coffee Granita with Whipped Cream, I absolutely could not resist sharing this icy treat. Now this is not the kind of granita that goes into the freezer, and which you scrape with a fork every so often to break it up into millions of tiny icy shards. No, this is something much more instant - and let's face it, who of us doesn't like a little bit of instant gratification. The kind of thing you whip up when you're gasping for a caffine fix, but don't feel like a hot drink.
This is very reminiscent of the Cappuccino Freddos which I enjoyed on a daily basis on my trips to Greece, the only difference being that a Cappuccino Freddo uses cold frothy milk on top rather than cream, but the principle is the same.
So this I thought would be the perfect treat to share for our Winter Wonderland theme. Trouble was the week came and went and somehow, the post never got posted. However, since this recipe appears in the Italian section of
Falling Cloudberries
, I thought I could share it with you this week after all. That artichoke and sausage risotto is just going to have to wait!
Now on with the recipe. Actually, this is really more of a method than a recipe, and I did depart a little from Tessa's method, but you do need an espresso maker of some sorts for this - whether that be an Italian-style stove top type, or something altogether more sophisticated.
Three-quarters fill a sturdy glass with small ice cubes, or crushed ice
If you like your coffee sweet, sprinkle sugar into the glass (I don't have sugar in my coffee, but just for the fun of it I added some vanilla syrup - courtesy of Bron Marshall's giveaway last Christmas)
Pour a double shot of espresso over the ice
Whip 1/2 cup cream together with 1/2 tablespoons icing sugar (this will be enough for two people), just until very soft peaks are starting to form. I kept mine really very soft - so it was not of a "dolloping" consistency, but a bit thicker than normal pouring consistency. Of course if you would prefer your cream to sit in a thick dollop on top of your coffee just beat it some more.
For an authentically Greek experience serve with
spoon sweets
on the side; or, if you're going Italian then a biscotti or amaretti biscuits on the side would be a great accompaniment.
If you would like to get to know Tessa a little better, then do go and visit my friends at I Heart Cooking Clubs and see what they've all cooked up ...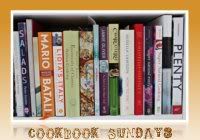 I'm also sharing this at Cookbook Sundays -
this week's linky is open here
. There's some great entries in already - why not add yours?!