I'm very excited that today is my first day for hosting Cookbook Sundays (keep reading for more details), so something a little bit indulgent and celebratory to share with you seemed to be in order. This sweet treat makes the perfect ending to a meal with a coffee or a "sticky", or a lovely handmade festive gift for a special friend.
This recipe comes from "
Maggie's Kitchen
" by Maggie Beer, but I do confess to having made a bit of a departure from the original recipe which called for the inclusion of prunes soaked in sherry. You might have seen
this post
back in February when I made, amongst other things, Damson Gin. Well, a couple of weeks ago I decided that said Damson Gin would be ready for drinking. I strained the liquor off into a bottle, but was then left with the gin-soaked damsons themselves. After sampling a couple of them, I decided that they were far too good to discard. So they've been sitting in a jar in my fridge waiting for some inspiration, and as soon as I stumbled on this recipe I knew I'd found just the right thing.
The damsons, after sitting in alcohol for 10 months impart an almond flavour and fragrance, which I thought would complement nicely the almonds in the slab. It did occur to me however that I could be setting you all up for cyanide poisoning, but after eating quite a lot of the gin-soaked damsons this afternoon I can tell you that I have come to absolutely no harm - did get a bit tipsy though - just saying! And, of course, it was purely in the interests of public safety - such are the lengths I will go to in order to ensure your well-being.
This was a doddle to make, even in a slightly inebriated state, with the hardest part being waiting the hour for the chocolate to set. Now, I know not everyone has boozy damsons hanging around the place, so I will give you the directions for the prunes as well.
Chocolate, Almond & Damson Slab
Adapted from a recipe by Maggie Beer
Click here for a printable copy of this recipe
100g (3.5 oz) pitted gin-soaked damsons
(see notes below for alternative)
(just pull the damsons apart with your fingers until you have 100g of flesh -
they will easily come away from the stones)
100g (3.5 oz) blanched almonds
200g (7 oz) dark chocolate (70% cocoa solids)
(I used Whittakers Dark Ghana)
1/3 cup cream
20g (.7 oz) butter
Note: if you don't have the damsons, you will need 100g of pitted prunes and 50ml (1.7 fl oz) of sweet sherry
Pre-heat your oven to 200 degrees C (400 degrees F).
Spread the almonds in a single layer on a baking tray and roast in the pre-heated oven until they are golden brown - approximately 10 minutes. Remove from the oven, cool and then chop roughly.
Note: If using prunes, soak them in the sherry until they have soaked up all the liquid, then chop roughly.
Chop the chocolate roughly, and put into a heatproof bowl with the cream and butter. Set the bowl over a gently simmering pan of water, stirring occasionally, until melted and glossy.
Add the damsons (or prunes) and almonds to the melted chocolate mixture, and stir to combine.
Pour the mixture onto a baking tray lined with non-stick baking paper. Spread evenly into a slab, and refrigerate until set - about 1 hour.
Once set, break into pieces and serve with coffee or dessert wine. I served mine with damson gin - what else?! Store in a cool, dark place (not the refrigerator) in a sealed, airtight container.
Now, at the start of this post I mentioned Cookbook Sundays. What is that all about, you are perhaps wondering. Well, if you're anything like me you have dozens of cookbooks gathering dust on your bookshelves, some of which have never even been cooked from. Sure I spent hours browsing through them when I first bought them, marking all the recipes I was going to make with little post-it notes, and yet still those books languish in the bookcase and never make it to the kitchen. There are others from which I have made but one recipe which was such a resounding success that I've made it over and over again, and yet somehow I've never made anything else from that book. Sound a bit familiar?!
Take comfort - you are not alone, and now Cookbook Sundays is your opportunity to change that. Every Sunday I'm going to share with you a recipe that I haven't made before from one of my ever expanding collection of cookbooks. And, because I know that if you have read this far then you are guilty of this too, I'm inviting you to join in with me. Each week my Cookbook Sundays post will have a linky for you to share something you've cooked from one of your cookbooks.
The rules for joining in are simple: your post must state the author and the title of the book your recipe has come from, and your post must mention Cookbook Sundays and link back to this post. That's it really. Including the Cookbook Sundays badge is optional, but always appreciated. You may submit as many entries as you like, and you may use the same cookbook as many times as you like. And remember, what goes around, comes around - one of the reasons you are participating in this is because you want people to read your posts, so do the right thing and go and visit a few of the other participants.
Now, go and dust off those cookbooks and get cooking! Use the linky tool at the end of this post to submit your entry/entries - simply scroll down to where it says "You are next ... Click here to enter", and then follow the instructions. The linky will be open for one week.
Lastly, if you would like to use the Cookbook Sundays badge in your post, simply copy the code in the box beside the badge below and paste it into your post. Feel free to also use it in your sidebar if you wish.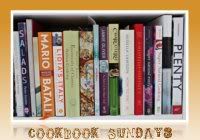 I am also sharing this post with
Sweet New Zealand
, a monthly blog event created by the very lovely
Alessandra Zecchini
, and which this month is hosted by the equally lovely and incredibly talented
Bron Marshall
. This is an opportunity for all Kiwi bloggers (whether you are living in New Zealand or overseas), as well as for non-Kiwi bloggers living in New Zealand, to connect and share some of those sweet treats from your kitchen. So, head on over to Bron's and share something sweet.